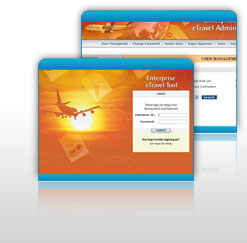 Enterprise eTravel is a one stop travel booking system that offers customised and end-to-end travel solutions for both domestic and international needs. This tool focuses on providing solutions that are well suited to the unique requirements of every traveller.
It facilitates right from helping the user plan their travel, to providing them with ideally suited travel options. Enterprise eTravel helps manage the reservations, making changes to the itinerary and providing travel advisory services.
From railway ticketing to domestic road transport, domestic/ international air reservations to hotel reservations and car rentals, this travel eApplication solution offers several value-added services and benefits.
Ticket Booking
The Enterprise E-Travel tool offers a quick and easy way to process your travel tickets from anywhere. Just select the destination, date and time and your flight reservation will be done once it gets approved by your Reporting Manager. Also, all the activities in the tool will provide mail notifications to users and authorities.
Reduction in cost
By automating your various customer servicing processes, you will be able to handle the same amount of transactions, or more, at a much lower cost.
24/7 availability
Your Enterprise eTravel tool will be available 24/7, providing visitors with all of the information and capability they need to complete their travel arrangements and make their payments. The instantaneous response to your prospective and existing customers adds convenience.