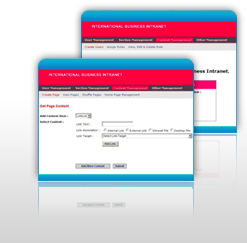 Puretech Digital's Intranet building eApplication is a bespoke application, developed on the robust Microsoft DotNet platform.
The application allows creation, administration and managementof corporate intranets which can be deployed over the company's internal network or made available on a secure internet platform. Using this intranet portal eApplication the administrators can build up sections and pages and assign read/ write rights to selected users.
Easily customized, this tool can be deployed in a very short time. It does not require any high end hardware configuration and is very easy to use, both for the frontend user as well as the administrator and can be deployed remotely by just gaining access to the servers.
Easy to use
Very easy to build the entire Intranet and add content to it. Does not require any web services skills to create, modify, assign or monitor content.
Reduction In
Cost and Time
The corporate intranet eApplication allows content to be managed in-house by a non-technical person. Multiple people can access and monitor different sections, based on user rights. Online approval process to create, approve and publish the final content
24/7 Availability
Since the administration module of the tool is available on the internet 24x7, the intranet portal eApplication can be accessed from anywhere at any given time, for content modification.